Custom Sex Toys
Question: I'm looking for the perfect sex toy, but I have found anything made in the way I want. Do companies do custom orders?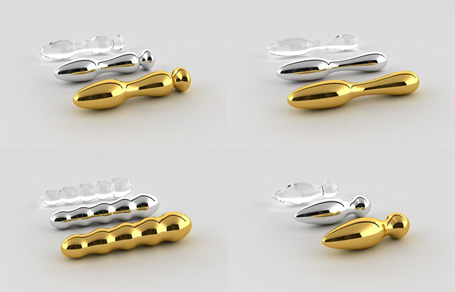 MTP = Made to Pleasure
Answer: Absolutely, and it depends what you're looking for. For doing it yourself, you can always clone-a-willy (and some of their kits come with vibration). However if you want it made for you, I've recently stumbled across Made to Pleasure (thx Regina Lynn), a site devoted to selling you a host of custom-made, quality sensual instruments in sexy materials. They are pricey (in pounds) and ship out of England, but they can be finished in acrylic, gold or silver. If you've got the itch for a custom fit, play around in their made to measure boutique and see what you can create.
If glass is what you're looking for, while he doesn't specialize in custom orders, if you contacted the man behind Simply Blown, you may be able to have it your way…for a price. He is a glass blower by trade, so it's not out of the realm of possibility.
For sex machines, check out Ken's Twisted Mind. If you dream it, the man says he can build it. I also found a site that does inexpensive custom made toys, but I can't recommend them highly at all since the material they use is low quality. However, to be fair, and since you asked TSX-Toys with it's disturbing array of products including a three-penis head anal toy and an unidentifiable vibrating pink mess known as the autorerotica, does make custom products allowing you to choose the color, design and even add your own label. They do say they're phthalate free, which is nice, but I'm not sure I wouldn't use a condom over these products.
Happy humping and hunting!
Posted by
Jamye
| 0

comments