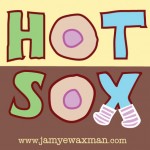 Finally, The Hot Sox podcast is back. Nancy Fish Braverman, co-author of the groundbreaking book, Healing Painful Sex: A Woman's Guide to Confronting, Diagnosing, and Treating Sexual Pain, talks with me about the startling statistics surrounding women and genital pain. From her own journey, to the types of female sexual pain, Nancy talks about why she felt it necessary to write a book on a topic that most women, and men, know nothing about. More common than cancer, if you suffer from vaginal pain, pelvic pain, clitoral pain or discomfort, or know someone who does, you don't want to miss this podcast.
Listen via itunes, or here.
Follow healpainfulsex on twitter.
Posted by
jamye
| 0

comments