emotional overload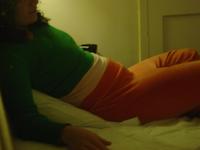 when i was 21 i moved to a town called bucyrus, ohio (yes, I know that I've written about that happy town before)..anyway, i got this letter yesterday, and well, it almost made me cry from happiness. the letter was from a 12-13 year old boy i befriended in the year i lived in crawford county. we did a lot together, adam and me. adam took me, well, i drove, to my first basketball game ever...at gund arena, in cleveland, ohio. it was there, when they announced tonight's attendance, that i realized there were more people in the half-empty arena then there were in all of bucyrus - which, at the time had a population of approximately 11,000.
i freaked out and eventually left for life in the big city.
and i haven't spoken to anyone in adam's family in years- and then...yesterday....
Dear Jamye,
You may not remember me, but when you worked at the little radio station in my hometown of Bucyrus you were my best friend. My name is Adam S***e and Sandy is my mother. We have missed you around here (especially your cooking) and I just wanted to take a moment to say hello and see how life has treated you. Myself, I am now a junior at Wittenberg University, where I am a pre-Law major. School has become my life for the most part, but I enjoy it. I just today saw your website and it reminded of some old goofy times late nights at the radio station. If you don't remember me I understand. It has been a long time and I hope that life is treating you with kindness you onced showed me. I hope to hear from you soon.
An Old Friend,
Adam
and then...
for some reason i was an emotional basketcase all day yesterday, and every time i told someone about this email, i almost balled. little did i know that as soon as i got back into the city last night, my car would stop working and that i would eventually ball for no reason what so ever. see, the car died at the corner of 13th St. and 5th ave. but not quite at the corner. and no one would help me move the fat ass white for taurus to the side of the road, at least not for the first 10 minutes or so. and i was already sad, and tired, and well..i'm lucky to have stalled where i did..because at least i wasn't far from the friend's house i was trying to get to. and when she got to the car, i lost it. we eventually got a tow truck and at least i didn't have to worry about where i would park the car.
and when i stopped worrying about the car, about life, about schoolwork, and whatever else i was letting get me down, i thought about adam. about how nice it was to hear from him, and other people that i've lost contact with. because no matter what happens, life is full of recyclables. some of it's garbage (like dead cars) but other things (like old friends) make sorting through the junk worth the whole experience.
Posted by jamye at June 8, 2021 09:06 AM