Caution: Roaring Woman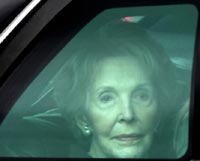 How great does Nancy Reagan look? Okay, fine, she's frail. What do you expect, the man she's been taking care of for the last 10 years just died. She has every right to look weak, but that skin, so taut, for a lady her age. Do you think she's had a lot of plastic surgery?
Fuck it. I've got a lot more things to say today.
First of all, I'm getting old. I don't have the patience for bullshit anymore. I have this thing about staying in touch with friends. While I will be the first to admit that I suck at it a lot of the time, sometimes I just think it's appropriate to call. Like if you change the date of a party, or if your good friend gives you an expensive piece of furniture for nothing, or a friend sends you a wedding gift in the mail - things like that deserve a phone call. I don't need a written document, just a quick vocal confirmation. I have a couple of friends on my very short list right now, and the longer it takes them to get in touch with me, the less I think I will ever like them again. I am a ticking time bomb with selective explosion.
I was in a room with Spike Lee last night, actually he was in the room with me as I watched the screening of his latest movie, She Hate Me - due out in July. He had a screening for some sexually progressive types as this movie has a large lesbian theme - and he stayed to answer questions after the movie. It was weird on so many levels, I think the least of which was that Spike Lee watched his movie with me. I was more impressed that Rebecca Walker, daughter of Alice, author of "The Color Purple," Walker was another of the guests. She was uber hot, really. She wrote a book not too long ago, "Black, White and Jewish" about her experiences growing up with a interracial family and being gay, although I don't know how much of the book is about her being a lesbian. As for the movie, I didn't like it at all.
And now I am catsitting for the former Alfred Kinsey Cavanah Waxman, who has adopted the new name Silly. Leslie (my former roommate) was taking care of Alfred when I first left for San Francisco. When I was ready to fly him out west, Leslie displayed more visible signs of sadness than I did, so I decided to leave him in New York. Now, he lives with her (I don't have a place to live) and she's going to get him a brother in December. And now, he's being so lovey that I don't want to leave him. I want to kidnap him and run away to Hawaii, where we'll change our names and have a new life. That's the only way Leslie won't find us. And then I remember that I am leaving in THREE weeks for Europe, where I will attend school in Prague. So, I can't really have a pet right now, and she loves him a lot, unlike those friends who don't love me and never call.
I can't stop harping on this friends thing. But I will try. Uhm...the car has been fixed, as Alfred was when I first got him. Let's just hope it decides to work fine. I know the cat has ever since he was "repaired".
Tonight I am going to a free your pussy party. Clothing required but no panties allowed. A room full of pantyless girls and other guests. Could be interesting. Or it could be a bomb, sort of like me, around those friends on the short list.
Posted by jamye at June 9, 2021 09:07 AM