I am a "Chatty Cathy" with no time to chat...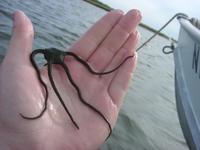 While digging for clams I caught this...it's a starfish, but it has another name..I just forgot it's other name...how wrinkly are my fingers btw?
So I wrote this whole entry, and then the computer at school went wacky and erased it all...and now I have minutes before I have to be in class, and I left Riverhead in the middle of nowhere on Long Island at 5:30AM so that I could get to PA in time for my 4:15 class (they had no other trains out til after lunch) and now I am cranky but I shouldn't be because I had a nice, relaxing weekend away from all technology, except a $5000 Bang and Olufsen stereo..which, when I get me some money, I will buy..
I went to Orient Point this weekend to stay with one of my favorite people in the world... and she showed me an incredible time on the island I swore I'd never live, because I didn't really like the people I grew up with..well, not all of them, just a larger than normal percentage...
But the north shore is so different. We foraged for food...I even tried a clam, one that I dug up myself, but, I had to spit it out..too chewy...This weekend rocked, and June is going too fast. I am teaching a class at Toys in Babeland on Sunday and it's already sold out!!! How crazy?! And then..two more weeks of school, then off to SF, then off to more school, but this time it's in Prague..yes, I feel lucky, and then...whew..I need to breathe...
I will try to be in communication later..but if not, I have plenty more to say, and you know I'll be back.
Where have you been?
Posted by jamye at June 7, 2021 03:55 PM