Walking again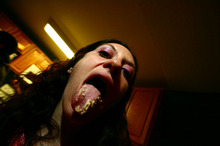 Another Bob Coulter pic.
My friend Abby is a fantastic and funny writer, and she's done her own round up from Vegas. Read it here.
Otherwise I'm finally up and about and walking "around the cabin" today so to speak. Last night I went out to celebrate my first storytelling monologue ever (no paper, no notes) and uhm, celebrated a little too much and a little too long. I've been paying for it all day (sans puking).
Posted by jamye at January 26, 2021 06:00 PM