Friends from former lives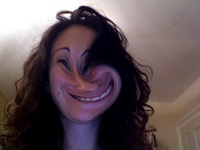 Me - playing with the photobooth on my new toy. It sort of weirds me out..
An Italian photographer/filmmaker and his cool Poetry writing-teacher wife just left our house (well, a little over an hour ago), after filming us for an Italian TV show he says is like our 60 minutes. It's a piece about Tantra, and we were basically the "students." I think he just liked that I got down to my underwear, but we loved learning about Tantra, from the amazing Mark and Patricia. I'll write more when I have the time, but now, from a post I started earlier...
My friend MaryBeth - a beautiful, brilliant, feminist, mother, writer and wife, emailed me today to say she posted a blog about me (and it's a good one). We had not been in contact for almost ten years, when just a few months ago, an email bearing a name that seemed so familiar, yet so distant - appeared in my inbox. I was surprised, and elated, and couldn't believe that so much time had passed and so much had happened, and yet MaryBeth had found me, and although we live across the country from each other, we started reconnecting.
I haven't seen her yet, but I hope to next year. She was always one of these women that you had to look up to, not only because she was totally bad-ass, but because she was a leader and a challenger, a lover and a fighter...She's artistic and talented and just simply divine. Read her blog here.
Posted by jamye at December 4, 2021 07:49 PM