The Gastineau Girls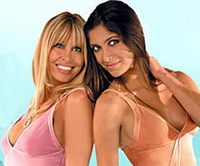 I was heading to a panel on porn when I got a text message from Chaunce. Hey U There - it asked, and within seconds we were on the phone. He was still amazed at how quickly his message had been received, and returned, as he sat by the bar at some chic restaurant in the 20s on the border of the east and west sides of Manhattan. "What are you doing?" I asked into the receiver, knowing full well that Chaunce doesn't live in the city, but he's always coming in to New York to attend some frou-frou party or talk to the latest 'it' girl. Tonight he was sitting at a bar...drinking...alone.
"You know Lisa and Brittany Gastineau?" he asked, "Well, I'm at a party for them. It's some sort of cocktail party. They're about to release a new line of dolls that look like them. You should come by, I have a plus one, plus nobody's checking at the door."
Now, I don't own a TV and I'm not a big fan of celebrities who are celebrities because of who they married and what not, but I do love getting to see Chaunce whenever I can because it's not all that often, and it's almost always fun. So, I changed direction, and instead of heading to the panel on 34th and 5th, I found myself making my way to 24th and 6th.
The party was nothing special. The camera crew was there filming the latest episode for the reality show that the mother/daughter team star in. Never having seen the show, I asked Chaunce what it was about. "Oh, they live together and fight a lot." And this, along with the fact that the release of these two dolls had brought out more press than some more important events I had attended, made me shudder.
And I grew sad.
That's when I decided that this party had come to an end. So I went home. I wonder how the debate went, but the truth is, I feel like I had been to that same debate last week. Nobody from the adult video industry was represented once again, and it's not fair to talk about this subject without fair representation.
So instead I sold two hours of my life to the Gastineau girls. And while it was a compeletely unsatisfying experience, the drinks were (at least) free.
Posted by jamye at November 22, 2021 03:29 PM