Food for Thought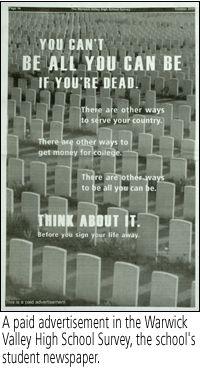 -----------------------------------------
Do you know the difference between a water bug and a cockroach?
Apparently it's just in the size of the bug. Waterbugs are bigger, I think it's over three inches in lenghth, and that's what I saw running through the ladies room at work the other day. How gross is that?
Now. I don't have much time today so I'll just do some cutting and pasting.
From the Washington Post:
Supreme Court nominee Harriet Miers once pledged that she would "actively support" a constitutional amendment banning abortions except to save a mother's life, participate in antiabortion rallies, and try to block the flow of public money to clinics and organizations that help women obtain the procedure.
From the Times Herald-Record:
(see above picture)
Warwick – If creating a buzz is rule No. 1 in advertising, then an anonymous Warwick Valley High School sophomore has a bright future.
Set on a backdrop of neat rows of tombstones, a full-page ad in October's The Survey, Warwick Valley High School's monthly student-run newspaper, reads:
"You can't be all that you can be if you're dead. There are other ways to serve your country. There are other ways to get money for college. There are other ways to be all you can be.
THINK ABOUT IT. Before you sign your life away."
And that's today's food for thought.
Posted by jamye at October 19, 2021 04:03 PM