Back to the movies...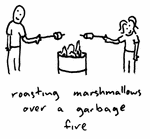 I saw the new Liam Neeson movie last night. Kinsey. Not so sure how I felt, but immediate reaction - didn't like it. With few exceptions, pretty boring. I could be wrong. If you see it, let me know what you think.
I had a conversation this morning about the winter. I wasn't here last year, as in New York, for the brunt of what has been described to me as one of the worst winter's yet, but I will be here, this year, for the brunt of this one. Hopefully I'll be living in my own slice of New York, in a place with a wood burning fireplace. If I keep my fingers crossed long enough, I will be sitting naked on a shag carpet, doing some shagging of my own, watching movies, reading books, and maybe even roasting marshmallows in front of an open, yet guarded, fire.
Marshmallows.
I hate the taste of raw marshmallows without some sort of melted chocolate on them. I hate the taste of roasted marshmallows too, unless of course they're smashed between two graham crackers and melted chocolate, but I love the act of roasting them. I was the girl who always wanted to roast the sticky, sweet, white clouds of gooey delight, and then I'd give them away. Sometimes nobody wanted my roasted marshmallow because half of the fun was roasting their own bloody marshmallows, but there were some kids with really, really sweet teeth who would eat all of the marshmallows I gave them.
I haven't roasted marshmallows in years. I haven't sat in front of a fire since last February, when I was hobnobbing with the elite in Yosemite. Before that it had been even longer. We had a fireplace in the house I grew up in, and my father would make fires as we sat around the den watching TV and eating ice cream. That was part of our family bonding.
Family bonding.
My brother, sister and I used to watch game shows every night from 7-8PM. We always watched the shows like Jeopardy or Wheel of Fortune, the ones where there were three contestants. Part of watching involved each of us picking our own player to root for. If there were less than three players/teams, one of us shared a team (think Family Feud), or sat out of that half hour of participation. If there were more than three contestants, we'd make our mother feign interest and share responsibility for the game. Our own competition in the face of the TV competition. Aah the memories.
Speaking of memories...
I still wish Silver Spoons was on TV. I had such a crush on Ricky Schroder.
Now he's Rick Schroder, and he's married with a lot of babies. I think I fell in love with him in The Champ, the greatest sports movie of all times. It's also one of the saddest movies I've ever seen. Knowing it's sadness factor makes it difficult for me to watch it without a box of tissues in one hand. I usually start crying midway through the movie and don't stop til it's done. The one and only time I saw the Michael Keaton movie about him dying of cancer, I cried for a day and a half straight. Some movies just have that effect on me, *I did almost cry in Kinsey at least twice even if they're only movies.
Others. Not so much so. See I brought it back to movies in the end, didn't I?
Posted by jamye at October 27, 2021 01:06 PM