Sploshing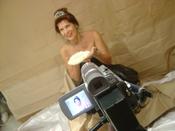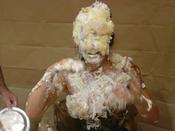 So spur of the moment I am sometimes. On Saturday night my friend Abby asked me if I had any interest to go with her on a sploshing adventure. I had heard about sploshing, the erotic fetish involving food fights, and while it had never interested me sexually, I knew that it had it's niche. I don't know if it was because I was plain curious or because I was curious and didn't want Abby to have to do this alone, that I agreed to go.
Lenny picked us up in front of Abby's apartment at around 3PM. He fit the typical fetish mold, if there were such a thing, of nice nebishy older man who still lived in the house he basically grew up in and worked a regular job. And of course he happened to be a fiscally conservative, socially liberal Republican. Abby was afraid it was going to hurt, because she had heard that it can. The fact that she had known other people who had partaken in the pie face shot made me feel better about the whole thing, because I will admit, that for a moment I floundered about going, only because I could imagine us running for our lives in some field off of Route 3 in New Jersey as this depraved sicko threw pies at us and pointed his NRA approved handgun.
Lenny looked like the father on "Family Guy." picking us up in his leather Cadillac, or car that resembled something like that. He was an aggressive driver, which began to scare me more than the thought of us running scared and naked across some corn field, and I was more than relieved when we eventually made it out of the city and to our hotel. The hotel, okay, it was more of a motel, was actually quite nice, and cheesy, with a mirrored ceiling over the bed, and a really modern, newly redone bathroom. It was one of those motels where they knew you weren't going to be staying all that long, no shampoo in the shower, no cups for drinking water. I don't know if Lenny paid by the hour or the night, but we weren't there very long.
He got everything ready as Abby got dressed. She had brought a few outfits, as she was scheduled to sit there and take pies in the face in two different scenes, and as Abby buckled up her leather corset, Lenny prepped the room. First he covered the back wall and the floor with disposable dropcloth. Next he placed a folding chair in the center of the dropcloth and placed even more dropcloth over that dropcloth. Then he covered the bed with one final sheet, set up the video camera and began meticulously placing pies on the bed. There were 32 pies total, 8 per box, 16 per shoot. (I have so many more pictures of this experience, I promise to link to an album soon).
The pies were all chocolate and coconut cream. Abby says the chocolate tasted much better than the coconut, but I'm jumping ahead of myself here. Once Abby was ready she sat down in the chair, and Lenny asked me if I'd mind manning the camera. I guess this means I officially got my adult directing debut doing a pie fetish video in a cheap motel in New Jersey. Sort of exciting.
Lenny took great pleasure in smearing the pies in Abby's face, in her hair, down her top, and once in a while, upon her request, on her ass. It was really funny to watch. Super messy and smelly, although the chocolate did give the room a nice scent, I couldn't help but laugh everytime Abby got smashed in the face with another pie. I tried to look and see if Lenny got an erection, he had already told me he used to get hard when he saw the Three Stooges pie a pretty lady in the face, but I really didn't want to look that hard, so after a while of not really looking to closely at his baggy shorts, I decided to stop caring.
Every once in a while, when Abby'd wipe pie away from her eyes, she'd exclaim that there was indeed light in here, and then she'd look in the mirror and crack up. Abby finished the first sixteen pies with only minor breathing difficulties - have you ever had cream pie shoved up your nose? and then got up, got cleaned off, and did it a second time.
We were done at little more than two hours after we began and it was a great experience. Lenny was super nice, super harmless, although a little bit intense in his pie fetish, and a super cordial host. He even invited Abby and me out to dinner at a later date. I do want to go, as I find his candid honesty and acceptance and pleasure so interesting.
So, that's most of the story. Yeah, there's some more, but I have work to do, and maybe, if I ever get paid to write this piece, I will and then you can hear all about it.
Until then, Lenny, if you ever need another director, I'm here for you baby, I'm here.
Posted by jamye at October 18, 2021 09:36 AM