Weird Al makes me happy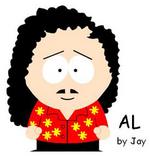 I forgot all about him, Weird Al, until yesterday, as I proceeded to walk down the stairs that lead to the basement of TIB Rivington, and saw the purchasing assistant wearing a Weird Al, Bad Hair Tour T-shirt. "I love Weird Al!," I exclaimed, "in fact, I once booked him on a show just to see if I could get hired on his tour." This was indeed true, and this was indeed years after I saw him in concert, somewhere in New York City, at a place I don't know if it even exists anymore, right after MTV had changed to AL TV for a day, right after the release of his UHF movie, and right, smack dab in the middle of my senior year in high school. It was his Weird Al in 3D tour, and he had made some pretty funky 3D shirts to sell, and I never bought one but wish I did.
Weird Al's concert was also the first place I ever saw a real concert fight. It was between an older man, probably a dad, and a younger boy, and all I remember was this was not his son. Something happened. People got pushed. There was even some semblance of a mosh pit at this concert. I know strange, but I swear...and then, BAM..man down, boy down..punches everywhere. They both had to be removed from the Weird Al Concert. I never knew Weird Al could be so dangerous.
By the time I got to meet him, this had long been history, but I still loved telling the story about the most violent concert I had ever been witness to, and I had been witness to a lot of concerts. I never understood how such a peace loving vegetarian could induce such anger in his fans? I think they just wanted to get as close as they could to the man that must have made them happy as well.
Weird Al did propose a position on his team for me. That of masseuse, but seeing that my hands are always falling asleep and my circulation sucks, I had to pass on the offer. I never got to tour with Weird Al, but my dad and I got to see him for free that same year at Westbury Music Fair. Westbury Music Fair is a place on Long Island where once more popular acts go to play out their retirement. It still gets some fairly big names, but it ain't no New York City.
"Weird Al can always make me happy, even when nothing else can," is what this purchasing manager relayed to me. And I stopped and thought about this, and realized, yes, indeed...Weird Al does make people happy. It's something in the way he writes, his stupid, smart sense of humor and his ability to understand the geek is chic. I could have married him, only he never gave me the time of day. We could have been fabulous lovers, writing witty lyrics to songs abour our life.
But we never were. And I'll never know what could have been with Weird Al. I'll never know how his pillowhead feels in the morning; if he takes his coffee with soy milk or sugar; if he likes to stay in bed all day on weekends.
Weird Al, you missed out. But you still make me happy.
Posted by jamye at October 12, 2021 04:25 PM