The Monogamy Gene and other news...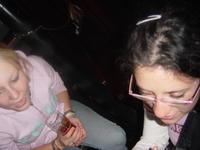 Thinking..In Prague
Yes, I know I am in Prague..but there's just some stories that make you want to share...
What if there were a gene that determined how we handle relationships? If we were monogamous by nature or not? Could that ever be possible, or just a good excuse for our actions?
From an article on MSN.com:
"It is intriguing to consider that individual differences in vasopressin receptors in humans might play a role in how differently people form relationships."
Researchers say fewer than 5% of mammals are monogamous by nature, and these findings may offer new clues to the genetic and biological processes behind monogamy and how humans form lifelong social bonds.
And in other news. More reasons to hate certain types of Bush...even though there is hope yet...
WASHINGTON (CNN) -- Efforts to pass a constitutional amendment that would effectively ban same-sex marriage failed in the Senate Wednesday afternoon, but supporters vowed to keep fighting for the measure. The White House released a statement from President Bush in which he said he was "disappointed" that the amendment was "temporarily blocked" in the Senate and urged the House to take up the matter.
"Activist judges and local officials in some parts of the country are not letting up in their efforts to redefine marriage for the rest of America, and neither should defenders of traditional marriage flag in their efforts," Bush said in his statement.
Six Republicans -- including Sen. John McCain of Arizona -- joined 43 Democrats and one independent to defeat the measure. Three Democrats and 45 Republicans voted for it.
And in other news...
While I continue enjoying/exploring Prague, my mind is on a constant spin cycle. I feel as if there are a number of voices telling me what to do (not in that committed sort of way). see, i have five days at the end of my trip, five days to either explore more of europe with a fat ass suitcase, or five days to relax in lichfield with my talented writer friend and get on working on some projects. while i want to travel i also want to relax, and the worst part is i feel i have to make a decision soon, so that i make sure i get back to london to leave on august 12th - and don't pay ridiculous prices to get there.
what would you do?
Posted by jamye at July 16, 2021 01:58 PM