Five reasons why I love giving hand jobs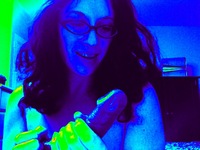 Fine - he can do it to himself, but if you do it "right" then he'll like when you do it for him too.
1. It gives me a chance to get slimed. Not actually slimed as in I've got a bucket of green goo poured over my head, but a hand job requires lube, and lube can be described as slimy, slippery, wet and gooey. So, pumping some lube - and I say pump because I love Pink - even if it comes in a glass bottle - which makes me ask why would anyone put something so slick like lube or oil in a glass bottle. Do you want us to break it? - then warming it up, and rubbing it up and down the shaft of his cock...that feels nice.
2. It's all about touch. My hands wrapped around his shaft as it grows harder and longer, you don't feel it the same way with your mouth or your vulva. It's a much more tactile experience with hands.
3. I can go with the flow. Sometimes if we don't think about it, we might give a hand job the exact opposite way he does it to himself. Like, we stroke up, he strokes down. If we were to come at him from his angle, say while we're sitting with our ass on his face, or even standing behind him, only allowing him to see our hands, we can work our magic more like he does when he's alone. And if he can only see your hands, that's a hot fantasy, like a glory hole without the hole. And again, lube...lube...lube.
4. He likes them too. Guys generally learn to masturbate by using their hands (or rubbing on their tummies, but that's another technique) before they use somebody else's mouth or other orifices. So, it's something that reminds them of a gentler, safer time, and they like it. A lot. With lube.
5. Warmth. Moisture. Pressure. The keys to a good blow job are also the keys to a good hand job.
Posted by jamye at December 16, 2021 03:46 PM