Gender as an issue
In terms of my own personal weather forecast: I'm still under it. But after getting out of bed, and a few showers, the day is looking brighter and Iím seemingly alive and ready to host a salon tonight at my house. Wish me luck getting through this one, especially with bouts of sneezing and a drippy nose...Speaking of which (not the sneezing, drippy nose part), if any woman would rather talk to me directly about masturbation, email me and we can try to set something up. Or an IM interview might work nicely too (once I get myself an IM address that is).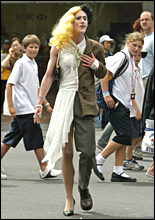 Okay, have you heard the one about New York and the Gender issue? If you havenít itís because itís not a joke and itís so over, and if you have, itís because youíve probably read this piece in the NY Times.
Yes, last week in New York City, the Board of Health squashed a proposal that would grant transgendered men and women the right to determine the M or F on their birth certificates. This would have had nothing to do with what was, or wasnít hanging between their thighs, and it wouldnít have mattered if they had, or had not, undergone any sort of sex reassignment surgery. This would have given people the right to ďgovernmentallyĒ identify as who they see themselves as, which is not necessarily how the world sees them. Of course this wouldn't have been as simple as, "hey today I feel like a man" or "today I feel like a woman," but it would have been nice.
It would have allowed men and women, to change, as opposed to delete (which is all they can do now in New York) the gender written on their birth certificate. Since surgery is expensive and not all transgendered individuals opt to go under the knife, it would have allowed anyone who seriously felt misrepresented in their body to change their birth certificate, and therefore, change their life (I donít care if this sounds overly dramatic, do you get my point here)?
In order to do so, a person would have had to prove that they had changed their name, had lived in the ďotherĒ gender for at least two years, and had at least two affidavits proving they had fully transitioned, including one from a doctor who had treated this patient for transgender issues for at least two years. So, it wouldn't have been easy, but for those who felt out of body, it would have been an in body experience.
Like I said, it's not happening because the board got to thinking and realized they hadn't taken everything into account, things like what would happen to a transgendered person who got sent to prison? Or what would happen in other places, like schools or bowling leagues, that segregate based on sex? Would they remain with their birth-gender or their identified-gender, and how would the world not explode?
Iím not saying that these wouldnít have been tough decisions, but society is already hard enough on transgendered persons so it would have been nice to see them get some additional respect. Alas, for now one can only hope that New York will at least allow gender changes on birth certificates, because they still donít. Here in one of the most forward-thinking places in the world, a transgendered person can only delete their gender (after surgery) and not make the switch. According to this article on Slate, the only other states that compare are Idaho, Ohio and Tennessee Ė even though they will not allow any changes to be made on a birth certificate, even after surgery.
So, New York Ė you had the chance to be ahead of the times, and while I do understand your concern about prisons, schools and bowling leagues I also wonder why we canít live in a world that deals with such things as they come. Why a person who isnít what they were originally believed to be, canít become who they are without your acceptance and approval, and lots of expensive surgery. This my friend, and my home, gives me pause for thought.
Posted by jamye at December 11, 2021 06:26 PM