Not that Jean Val Jean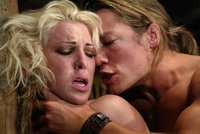 Who am I? He's Jean Val Jean.
Tomorrow I get to meet Jean Val Jean, not the Jean Val Jean who stole a loaf of bread, wound up in jail and then took care of a dying mother's baby girl. This Jean Val Jean likes to take his pee pee out and play hide the sausage on camera.
It's my last day in LA, and I'll be on the set for the cover shoot for Candida Royalle's new movie (the one I produced) called Under the Covers. It's set to be released in early February...and tomorrow we're shooting the box cover. JVJ isn't in the movie, but he'll be on the cover - yeah, I guess it's some form of false advertising, but hopefully nobody will be hugely disappointed..there are other good looking, highly under-used men in the movie, and after all the movie is about how nothing is quite like it seems.
I'm looking forward to meeting him because he's probably the most beautiful man in porn (like I said we have other good looking men in the movie, but JVJ he is rock star hot). He's one of those guys you want to see naked, no matter if you're gay or straight. Not only does he have a hot body, he's also French. Ooh la la..And I love his name. Les Miserables is one of my favorite musicals (yeah, I know it's a book too, but I haven't read it) and tomorrow, well, tomorrow I get to swoon for a moment.
But then it's over. Because it's really about work. I'm allowed my five seconds and then I have to act all professional. I wonder if he'll look as good in person as he does not in person? Actually I probably won't care all that much once we meet, because generally once you meet someone who you think is so hot, and they become real, the hotness doesn't matter. Or actually I don't know if that's true really, but that's what happened with Rufus Wainwright. He did a radio show of mine once, and he came up to the studio all drunk and utterly out of it, and I totally lost my crush, even though the crush would never have been reciprocal because he's gay and I'm not his type.
After the shoot I'm getting on a plane and heading back home. Then it's into total writing mode. I've got to move along on my book..Which reminds me, I'll be setting up interviews mid-November. If you're a woman (and you haven't contacted me) and you want to talk about masturbation, please email me...
jamyew@gmail.com
And now, I've got to get ready. First it's dinner. Then last night's episode of Lost - which I've totally been obsessing over watching since like the day before it aired, and then, well, then..maybe work?
Oh, and yesterday I got some digits, which hasn't happened to me in a really long time. This strange man stopped his car when I was cruising to a location (we are shooting my movies in downtown LA) and he asked me to help him locate some place called Aphex. I, not being from the area, had no idea what he was looking for, but he saw the car I was driving, he saw me get out of the car, and he saw me get into another car...and apparently when I left he decided to slip me his card, and write his personal email and phone number on back. Ironically his email address was mrexotica, which is weird. It's not like he knew what I was scouting, and yet, here he was, obviously into sex in some way or other. Anyway, it kind of creeped me out...but it kind of made me left, so I kept the card. I think his birth name is on the other side. I'm going to have to look him up. Just because...
Not because he's Jean Val Jean though. Because he's not...but it was nice anyway...
Posted by jamye at November 2, 2021 09:36 PM