TONIGHT - ME - LIVE - ON RADIO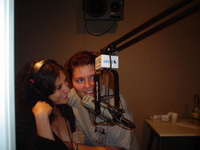 Because life is literally moving so fast right now I totally forgot to post that I'm going to be on The Derek and Romaine Show on Sirius Radio TONIGHT at 7PM. If it's not too late, tune in or call up, or if you can't then don't.
I'm hoping to have some other personal news tomorrow. But it might not happen, so I don't want to say anything else just yet.
Posted by jamye at January 4, 2022 05:47 PM