Ah, blog...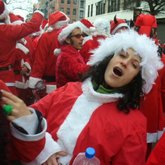 A pic of me as Santa...like they say, better late than pregnant *unless of course you're trying to get pregnant, than this phrase actually sucks big balls
I'm back and I've been inspired to write a short thingamajig, having just flew in from Missouri, and stealing a really bad joke, boy are my arms tired. It's been a trip (literally and figuratively) and having just checked my emails I was surprised to receive a number of fantastic messages from people I've never physically met...and then I realized something.
I've learned so much from this blog and my life this past year. And one email inparticular made me realize what it was that has helped me get through the times that I've needed help getting through those times we all have to get through at times (how many times can I say times in a sentence? - I think that was five), and all of a sudden I wanted to write it down.
I've learned not to let the future dictate how I feel in the present because I can't do anything about the future right now, as I live in the present, even though I can help maneuver where I'd like the future to go, I still can't guarantee that it'll ever get there. But with the desire to do whatever it is I want to do, I can try my hardest...and that's all I can ask of myself...ever...
What a long strange trip it's been, yes indeedy, and no helium balloons, bands with two lead guitartists or twirly, smelly people were involved in this process *at least not this time.
Posted by jamye at December 26, 2021 10:37 PM