Not even scraping the surface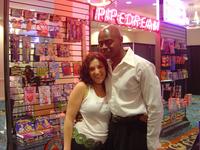 The writer (that's me) and The Porn Star (that's Sean Michaels)
I took a hard core ABS class at the gym today, after not really going to a gym at all for a year, and now I'm afraid my legs won't work tomorrow. I could barely make it up the steps and out of the gym today. No pain no gain.
In other news, the trip..the trip to LA, what a success! What a great time! What a bizarro world! WOW!!! I feel like I met 100's of people in 48 hours. There are so many sex toys and sex aids and sex products on the market these days, it's incredible. So many people have personal reasons for being or creating in this industry. and I find a lot of the stories inspiration and motivating. I really do love what I do.
I had a great conversation with Sean Michaels, an adult actor whose penis has been molded into a number of sex toys, my favorite one being a "life like" Sean Michaels dong that can actually ejaculate. He told me that he put that on the market because there was nothing like that out there. We had a really nice conversation, and when I asked him why he started doing adult, his response was "anger." Anger at racism in the industry. Interesting if nothing else.
My favorite sex toy creator at the show was Tony L. His uber creative line of sex toys is at Big Teaze Toys. I never knew how to sell the I "rub" my Duckie when I was working at Babeland, but after Tony L.'s demo (on my arms and back) I'm a believer. His newest toy is the "Flower Power" and it's not only a vibrator, but it's also a cockring, and it's so damn pretty.
There was so much more. I met a triad (2 women and 1 man) and they have a CD of live orgasms set to techno music. Plus, Catherine and Brian at SoundsPublishing have a great line of audio erotica that they've been working so damn hard on.
And there was even more..I learned not to drink to much with business partners, because when you lift your top to show them your tattoos, they will take pictures and post them for the whole Expo to see. Valuable lesson that will hopefully NOT be repeated. It was only my back and my bra strap anyway.
So much to do. So much going on. Buy my friend Regina Lynn's book - Sexual Revolution 2.0. The book is really goo and I've got a quote on the front cover and this excites me!!!Tomorrow I'm talking with Heeb magazine for an article about sex. Then I'm filming some talking head stuff with Sex TV. And this is just the beginning.
So now it's time to breathe.
Posted by jamye at July 21, 2021 03:45 PM