Da Bunny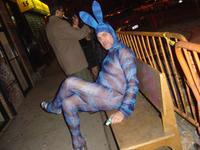 When he went inside, the group that had gathered around him was laughing. "He looks like the tick," they screamed at the doorman who had just let the misunderstood and angry bunny back into the bar. "Like the tick", they reiterated. "Only he's an out of shape, whacked tick" they kept screaming.
Scotty the Bunny is more than a little misunderstood.
I tried to be nice to him. Asked him if I could take a photo or two..and yes, while he let me, he wasn't all that nice or social about it. "I need a man," he said, "someone to help me walk in these heels." I couldn't help him there, but I understood what he meant.
What would Scotty the Bunny's personal ad look like? Cranky, out of shape bunny looking for his own carrot. Maybe if he wasn't so cantankerous, the men would be lining up at his door. They would have to be secure men who wouldn't mind dating an angry bunny. But when you're always blue, it's hard to meet new people.
Scotty the Bunny didn't say anything else to me. He never even asked to see the pictures. He sat on the bench and finished his cigarette, yes, some bunny's do smoke, and got off his ass - which was more than a little revealed through his blue stocking bunny suit and a rather large g-string, and huffed back inside.
And since he was finished with me, I was finished with him.
We went our separate ways for now. But I know we'll meet again. I know we will.
Posted by jamye at November 20, 2021 10:41 AM