The Clitoris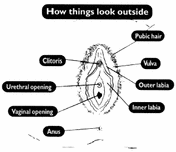 I found the-clitoris.com and now I think every women should have to read it. I wish they had cuter tee shirts because I would have bought one.
My life is full of random occurrences. Last night I taught a 'private workshop' at my place of employment. So these five girls walk in first, and one of them looks really familiar. She's staring at me as if she knows me, and then, she asks me. As soon as she asks, I know we know each other. It turns out she's a few years younger than me, and she grew up in Plainview. The bride of this 'private workshop' is also from Plainview and so are some of the other, later to arrive, attendees.
I recognize the bride, and of course I recognize the sister of one of the girls I was closer with in high school. It's very strange to know that you're about to reveal a lot of personal shit to some people who already know who you were as a teenager. The neighbors will never look at me the same again.
It was a personal growth step, and it helped me solidify my role in this world. Not as monumental as my first orgasm, the first one I knew for sure was an orgasm. I was 21, which might sound surprisingly old for a seasoned pro like me :) but it's the truth. But this, this workshop for my childhood community, this, at 30, was a mental sort of orgasm. It reminded me of where I came from, and who I had become.
Have you found your clitoris yet?
Happy Halloween!
Posted by jamye at October 31, 2021 03:10 PM