To the boy working at McDonalds
on 6th ave somewhere between 8th and 10th streets...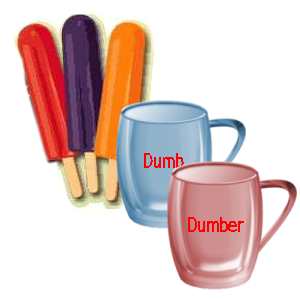 YOU ARE THE DUMBEST MOTHERF*CKER THAT I HAVE EVER MET. I mean that in the nicest way of course, because while you may take a toke or two from some form of pipe (crack, crystal, pot...) I think your mommy must have been smoking up or pricking herself with needles at least nine months before you managed to escape her womb.
I feel sad for you because you can't read or write. It's obvious when instead of ringing me up for my french vanilla cappucino, you accidentally charge me for chicken strips. And then, that look on your face, the one that can't comprehend what you've done, the one that knows it's wrong to have pushed that button as you call the manager over, that look is priceless. But not as valuable as the site of you making that drink, of having to push a button and figure out where the liquid will drop from, because that was exciting for you, wasn't it?! You guessed wrong at first, having placed the cup next to your side, and not under any of the little holes that pour out that steaming french vanilla water. As soon as you saw that coffee/sugar/water pour forth from it's vent, you realized that something needed to be there to catch it. And then you remembered...the cup...
Yes, you have the IQ of a trained lab rat, unless of course the rat finds my comparison offensive. Then I must say, without comparing you to any other form of sewer mouse, that you are just plain stupid. Do you even know what stupid means, dumb ass?
I will try to forgive you for being born without a brain. After all, you are trying. You have a job, you attempt to understand how to work at McDonalds, and you had a friendly demeanor. But really you should learn to read, just a little bit, no?
I will forgive you, sort of, because today is September 11th. A day not to be mean, although I just was. Today is a day to remember.
SO - LETS TAKE A SHARP TURN LEFT, shall we?
It was beautiful day, 9.11.01. I remember looking up at the sky that morning thinking, damn, what a beautiful day. It didn't last, (duh!) and I know that it became one of the scariest and saddest days of my life. All of us living in New York, know or knew someone that got fucked by the events on that day. In fact, if you lived here, you were ultimately affected. The smell that lingered downtown for over 2 months, the site of people covered with an unidentifiable powder, the faces of others searching for something they knew they would never find again.
Hope. Faith. Innocence. Family.
Whatever it was, it was gone forever.
There was one boy I knew well, growing up, that isn't physically here anymore because of that day. His name was Andrew Zucker, and less than nine months after his death, his wife gave birth to his only child. And I'm still sad for him that he's not here to see his son grow up. And I'm still sad for all those other people whose lives were robbed of them, and I'm angry that there are people out there who have no fear at all, because they are the scariest motherfuckers alive. And they will be back, I just wish they wouldn't return in this lifetime.
Life is full of dumbasses. Some of them are just smarter than others.
Posted by jamye at September 11, 2021 01:15 AM