Couple O' Things - Including a Class I'm teaching!!!
First off. If anyone knows of a place I can sublet from Sept. 9th thru Sept. 29th, please send the information my way. I need to find a place to live, as in settle once I really return on October 5th, but this is a start to my settling for more than one month process.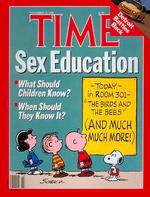 Second. I found this cover on the web. It has nothing to do with anything except that I'm teaching a sex class. I am not in this magazine. I do not even know when you could get this magazine.
THURSDAY, AUGUST 19
Back to School with Jamye and Abby
7:00PM: The Sexth Sense
Jamye Waxman invites you to explore your sexual Pandora's Box. Discover the joys of honey, handcuffs and harnesses as you learn how to open your senses and expand your mind to spice up your sex life. This hour-long class will venture into the world of sex toys -- and not just the ones you can buy in an adult shop! -- to teach us all how to better appreciate our sex senses.
8:30: Erotic Party Etiquette
EditrixAbby will discuss proper etiquette, classy comportment and generally how not to be the creepy lurker, scary wanker or invisible wallflower in this hour-long class. Learn how to navigate the unfamiliar waters of sex and BDSM play parties. If you've always been curious about what goes on, who attends, how you'd fit in and how you're supposed to, um, act once you get there, this is an hour you won't want to miss! Abby has also invited producers of New York City's hottest erotic events to participate in a panel discussion/ Q to address your assorted concerns, as well as introduce you to the folks responsible for all the fun you now have to look forward to.
10:00: Let's Play!
Your opportunity to put everything you've just learned to immediate use!
Tickets:
$20 for classes alone
$20 for party alone
$30 for classes AND the party!
At 30/31
30 West 31st Street 5th Floor
There will be brief breaks after both classes. Snacks and refreshments will be served. You are welcome to BYOB. The party will last as long as you folks do! Please RSVP if you're interested in attending so we can get an idea of how many people to expect.

Posted by jamye at August 17, 2021 12:12 PM