Yesterday in Prague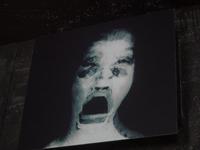 From the Communist Museum, Prague
PRAGUE, Czech Republic (CNN) -- Czech authorities are blaming criminal elements for a grenade attack near a casino in Prague.
Police say a man threw the grenade at the casino in the city's historic center on Sunday wounding 18 people, including at least one child.
The hand grenade went off at about 12:30 p.m. (10:30 GMT) after rolling beneath a car outside the Casino Royal, police sources said.
The car, a white Jeep Cherokee with U.S. plates, absorbed much of the blast.
Witnesses reported seeing a Mercedes speed away from the area after the explosion.
Prime Minister-designate Stanislav Gross called the attack "a case of gangs settling accounts."
Police said the attack may have involved racketeering.
The Casino Royal, about 50 meters (yards) from Wenceslas Square, is in a popular tourist area. Some people were seated outside at the time of the blast.
The injured included tourists from Britain, the United States, Germany and Slovakia, The Associated Press quoted Czech officials as saying. The British Foreign Office in London said at least two Britons were among the injured.
The casino's original owner, an Israeli, was killed two years ago. His son now operates the casino and a few others.
Ten ambulances came to the scene following the blast, and ordnance teams were investigating the incident. Police sealed off the area.
Journalist Frantisek Sulc contributed to this report
__________________________________________________________________
Apparently some people in the United States have heard about this, but no one I know, as I haven't received a single email making sure I'm okay.
I AM OKAY. I wasn't there. But I could have been. It wasn't far from my school and other major tourist attractions. I had been there the day before. But not yesterday.
I just lost my ATM card. Reported it missing and then found it. So now I am without a bank card the rest of this trip.
Still working on that timing thing.
Oh, and are you pondering what I'm pondering?
What was a car with US Plates doing in the Czech Republic?
Posted by jamye at August 2, 2021 11:50 PM