Ducky Doolittle Does A Lot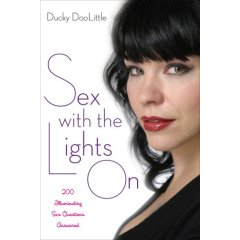 I have known Ducky Doolittle for many years. Not only is she one of the most prolific sex educators, performers and kind hearted people I know, but her new book, Sex with the Lights On, is the most entertaining and informational sex book out there, and I highly recommend everyone - from basic beginners to ultra advanced - pick up a copy. Ducky is so talented that she's also done all the illustrations in the book. And she's fascinating. She has this really incredible and inspirational life story to go along with the beautiful woman that you will get the chance to meet if you can come to one of her signings.
She's kicking it all off in New York next week. I'll be there fer sure.
April 18th / NEW YORK, NY
Book Party and Q&A; with Ducky Doolittle
National sex educator, writer and comedian Ducky Doolittle will be here to sign copies of her newest book Sex with the Lights On: 200 Illuminating Sex Questions Answered. For more than a decade she has answered sex advice queries from thousands of women and men. In this book, Ducky not only answers the most-often asked question with a sex-positive open-mind, she gives readers permission to laugh and relax and to create the sex lives that best suit their own desires. See the poster.
WHERE: Babeland 43 Mercer Street, SoHo
TIME: 7:30pm
WHO: Individuals of every gender and sexual orientation.
TICKETS: FREE
INFO: www.babeland.com (212) 966-2120
The rest of her three month touring schedule is on her site.
Also, I'm still looking for couples OUTSIDE New York for a National Magazine article that will require you to do some "sex homework." You'll get a photo shoot, and possibly a flight to NY, courtesy of said magazine. If you and your sweetie might possibly be interested, please email me at jamyew@gmail.com. Oh, and send a picture of the two of you. Or two pictures, one of each of you.
Posted by jamye at April 12, 2021 03:49 PM