It starts out serious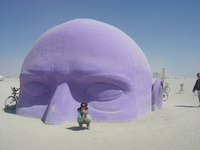 This has nothing to do with anything, which is exactly why I put the picture here in the first place. Although, now that I think about it, I am often in my head, and so the irony is that sometimes the head is bigger than the body and that maybe if you think too much you get swallowed up by all the sand. I'm squatting, but still, I look really small in this picture. Sorry, it's been a long day of writing.
This email was in my inbox this morning. Stephen is a boy I briefly dated, years ago, who because of said experience, has become a dear friend of mine. Last year, on my birthday, he brought his new girlfriend to my big bash, and, it turns out that I love her too! So now, I try to see him often, but for those of you who know me, I am bad at seeing anyone often *unless of course I'm having sex with you
Anyway, you didn't need to know that to read this, but I decided to share.
Friends et al,
As you might know, I grew up in Biloxi and almost all of my family still live there. My mom and dad actually live in New Orleans. Looks like neither one was a safe bet for this hurricane.
I'm glad to report that everyone is alive and healthy. Beyond that, it's difficult to comprehend how much is lost, and how long the recovery and rebuilding effort will take.
My parents' house is basically underwater, as is their entire neighborhood. In Biloxi, my uncle's house is destroyed, and my grandmother's house is just GONE. They took my grandmother back to Biloxi afterward because she had to see what was left, and when she got to her yard, all that was left was the concrete slab foundation. No house, no nothing. There wasn't even any debris, it was all washed away. And that's the story with a majority of our childhood friends who live there there. Their houses, their homes, their possessions are simply not there anymore — completely swept away.
My hometown needs our help, so my brother (who lives in Brooklyn) and I are putting together some relief effort events here in the city. The first one is Thursday the 15th. We're making strides to find charities in place in Biloxi that will get help to the victims quickly, including the Rebuild The Coast Fund.
I hope you and your friends can attend. Please forward this to anyone you think would come. If you can't make it, please send people my way. This isn't some "come see my band" bulls**t request. I really need your help.
INFO:
A NIGHT FOR KATRINA RELIEF Thursday, September 15th, 7pm –11pm Neogaea @ 4 East 28th street btw 5th and Madison Ave With DJ Benjamin prizes - giveaways - silent auction for a Patrick Nagel signed lithograph $20 suggested donation. All door proceeds benefit the Red Cross Disaster Relief Fund and the Rebuild The Coast Fund
Thanks so much,
Stephen
Me - I've been trying to write porn all day. He are some snippets from various pieces...
scene in a French Bistro:
It's difficult to order when you're thinking about how your waiter's tongue could manipulate your clit. How he'd make tiny circles around your pink pearl, and then how he'd watch as he teased you with his soft up and down stroke until he slowly entered your sex.
scene about a roommate search:
But first, there were questions that needed to be asked, about financials and other technicalities, but these weren't the questions I wanted him to answer. I wanted to talk dick. Was his long and pink? Did it curve to the left or the right? Could his cock find my G-Spot and would I cum with him inside of me, or with his tongue on my clit?
scene about a record exec and her client:
I've been a record executive for over ten years now, and just for the record, I've never fucked a client. Well, not until this past week when Taz walked into my office. I've met with hundreds of rappers and hip hop artists from all over the world, and none of them have had quite the same affect on me. And, for the first time in all my years in this business, I broke down.
and finally...
a scene that takes place on a "tropical island":
I wanted to initiate. I wanted to suck him off, wrap my lips around his beautiful, thick cock and show him how good I was. I wanted him to taste my pussy, to slip his dick inside my slit and to move back and forth like the waves of the ocean. I wanted him to fuck me at the bar, and on the bar, and in the bar.
It wasn't the only bar in town, and he wasn't the only bartender. Yet I knew I'd be back …at least for the cock part of the tail.
----------------------------------------------------------------------------------
So, that's what I've been doing all day. I've done five of these and have six more to go before Monday. Plus two other writing deadlines around then as well. I wanted to write more about my impressions from Burning Man, about life, about whatever the fuck I feel like, but this churning out erotica thing, it's draining on me.
Posted by jamye at September 8, 2021 04:41 PM