The Jewish Girl and the Blowjob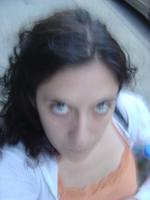 Blurry. Like my weekend.
Do Jewish Girls give better head? It's a question that's been following me around all weekend, ever since I answered some questions for a writer with Heeb Magazine, who's doing a cover story on that very topic. Why is it that Jewish Girls supposedly give better head? Is it genetic? Is it because, growing up, all the goyim (or non-jews) were considered slutty for going down, while nice Jewish girls didn't do that, even if we really did?
I don't know, but I do know that no matter how the article is written, I'm going to come off looking like some racist for answering questions on religion and sex. Hopefully the article will be done in jest, and hopefully the writer will make me look smart and sassy. After all, I did take her to a bachelorette party this weekend, where seven Jewish girls sat around talking about their first head-giving experiences. And she did seem to have a good time.
Let's see...in other news...I had one hell of a weekend. I don't care to go into more detail, but as of Sunday morning I had had a major downward spiral about my life and have really made some serious changes. Yes, it's only one day since said serious changes, but I do feel like the last parts of my health plan are kicking into gear, and by the end of the summer, I will look and feel like a whole new me.
But instead of focusing on those sorts of things, I'll continue to focus on that oral sex thing. SO, why do Jewish girls give better head?
I'd love to know.
Posted by jamye at August 1, 2021 12:00 PM