Saturday morning silliness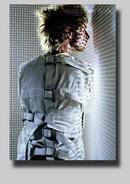 I now understand why out of towners think that everything in New York is so damn expensive. I had breakfast at the very trendy Balthazar's this morning, where a basket of bread costs $14, and eggs with spinach and artichoke $15.50, and at 11AM the crowds of tourists that lined the place where out the door, and I realized that this, this sort of experience is what makes New York expensive.
It was crowded. I got pushed a lot. I don't think I'll ever have to eat there again. Except that the slices of chocolate bread were really damn yummy. I'm talking the best surprise of the morning.
I can't go to bed early. I mean I can, but if I go to bed too early, the only thing that happens is that I wake up early as well. Last night I was in bed by 10:20PM. This morning I was up at 5:38. I tried to go back to sleep, I watched the sunrise over the water, even masturbated a few times, and I think eventually I fell asleep for maybe another 20 minutes. So, from now on, I'll have to go to bed at an unreasonable hour, just so I can wake up at a reasonable one.
I've taken two days to regain my mental health, and while I'm not at the top of my game, I feel the energy re-entering my body. Speaking of energy, I've seen some crazy shit this past week, energetically speaking, but I'm not really ready or sure how to explain it. I will just preface any later explanation with this...I am not crazy, nor do I think I'm going crazy, but yes, life is crazy. It's this whole molecule thing, I'm having a hard time grasping that we are all just made up of molecules...and...oh, fuck it, I don't want to go into it now.
In fact, I don't want to go into anything at all right now. Except maybe my bed for a few more good hours of slumber. But it's Saturday and that means I have other things to do...
Posted by jamye at February 19, 2021 01:06 PM