At first I was going to bitch...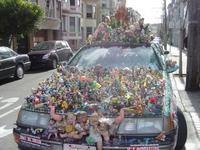 if a car determines how much action you get, how often does the owner of this baby get laid?
...about dumb people and how there are so many stupid people living among the more intelligent of us. Dumb people piss me off, and although this idiot girl who sat in front of me at Dojo's the other night didn't actually do anything to make me hate how stupid she was, I could just tell she was so stupid and that she lived life in her dumb bubble world.
But I am not really angry, and that makes me sound angry, so instead I found an interesting piece about cars and sex. Apparently, what you drive determines how much you get laid.
BERLIN (Reuters) - BMW drivers have more sex than owners of any other cars and are much more active than Porsche drivers, a new German car magazine has found.
The German magazine "Men's Car" found in a survey of 2,253 motorists aged 20 to 50 published in its inaugural May issue that male BMW drivers say they have sex on average 2.2 times each week while Porsche drivers have sex 1.4 times per week.
Following BMW drivers were Audi (2.1), Volkswagen (1.9), Ford (1.7) and Mercedes (1.6). Drivers of foreign car makes were also behind BMW with Italian cars (2.0), French (1.9), Japanese (1.8), Swedish (1.6) and Korean cars (1.5) trailing after.
Among women, French car drivers were top with 2.1 times per week followed by Audi (2.0), Italian (2.0), and BMW (1.9) with Porsche again at the bottom of the scale at 1.2 times per week.
My father had a BMW for a long, long time. This might be too much information...actually, it most definitely is...
Posted by jamye at May 6, 2021 02:48 PM