I feel like Chicken tonight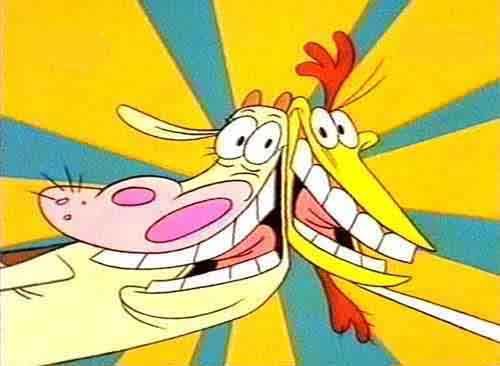 COW AND CHICKEN

Not literally. Chicken. I stopped eating chicken when I was a freshman in high school. 1989 - to date myself. I told my mom that a chicken leg she had cooked smelled like it was fresh off the farm. I used to pick the blue stretchy veins out of my cooked poultry.
I don't care if you eat chicken, it doesn't gross me out at all. I just don't want to ingest it into my body. Or meat. I don't eat meat either. My mother says I never liked it, but I think I did. I know I liked the pork dogs at Friendlys. They were sweet and the bun was a toasted piece of white bread. I could have eaten those forever. But when you give up meat, you have to give up meat.
At least cow meat. Or that's what I did.
Okay, I digress..as usual..
I am still cat-sitting for bruce and samantha...cute but plump little pussys...they are a strange duo, but they are super lovey at times and since i am without alfred kinsey "silly" cavenah waxman, i like having them around. til sunday. then i will gladly give back litter box duties. that doody really stinks. and they have digestive problems, definitely. so cleaning them is never a picnic. okay chicken, meat and cat doody...i've lost it for now.
animal talk...its a dirty subject but someones got to do it!
Posted by jamye at December 4, 2021 12:55 AM